It is certainly not your job to fix the broken gate or repair damages. Isn't it a shame to make it to the list of gate accident statistics over damaged storefront gate springs? Though, knowing whether the system is reliable or not, it is also important. If you reach the point that the gate won't open anymore or it will be too stiff to close well and lock, you will find yourself in big trouble. Inspecting the mechanism periodically is actually very important. It will save you the trouble of running at the last minute to find repair parts and lubricants. It will keep you secure and surely safe.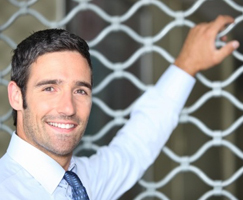 Check the parts but do not get involved in repairs. Both will keep you safe
When you hear the rolling gate squeaking and creaking, it might actually be a cry for help. Don't ignore it. Get the signals and check as far as your eyes can see and as good as your ears can listen. Some problems are obvious. Most usually the apparent reason for squeaky gates is lack of lubrication. Of course, if the wheels have been totally worn and need replacement, there is not much you can do but still a bit of lubrication will keep them going a bit longer before they are replaced.
If you notice that the automatic rolling gate is bumping in one particular point as it is opening and closing, check to see whether there is a dent in the rails. Even if they are not damaged, tracks might need good cleaning and lubrication, too. Don't wait till your swing gate is dragged down when it is moving in order to check the hinges and the arms. Don't forget that they keep the gate stable or it won't latch well creating significant problems.
The most important thing is to test the sensing features. If the photo eyes do not work properly and fail to reverse the gate, you will have serious safety issues. It goes without saying that it's best to refrain from any rolling gate repair in order to keep safe. After all, you want to inspect the system in order to avoid accidents and not get involved in one. Just keep your eyes open for anything which is out of the ordinary. It's good to know when it's time for maintenance.