Imagine having your scarf entangled in the rolling gate as it is opening. It is choking you but there is nothing you can do. The sensors stop the movement and you are saved at the last minute. Is that a satisfactory operation of the electric opener? Not quite! According to the official guidelines of the United Laboratories 325, gate operators must have both the capacity to stop the movement of the gate and, most significantly, reverse it. Failure to do so may result in deaths and there are certainly many reported. The prerequisites for a reliable and safe opener are plenty and certainly involve good entrapping sensing systems.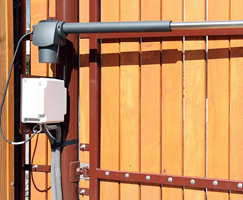 In fact, guidelines keep getting renewed. Commercial and residential gate openers ought to have secondary protection devices, an alarm and the possibility for manual operation and must move no faster than 1foot/second. It is vital that you choose openers with such characteristics and anything less will just compromise your safety. It is actually imperative for large buildings and establishments, where hundreds or thousands of people drive in and out daily. In this case, integrated means for manual operation is critical.
Get the right opener with the proper features
Imagine what would happen if an earthquake strikes and suddenly thousands of employees in a single building are trying to get out. During such natural phenomena, the power is usually out and the automatic rolling gate must be turned to manual use in order for people to get out as quickly as possible. A long lane of cars full of people would be created and basically entrapped without such means and for this reason backup battery systems are also important. During such critical moments you just want to get out and the back-up drive opener system will automatically open the gate.
It is also imperative to install keypads and gate intercom systems to the direct reach of the drivers. If the driver must reach through the rails of the gate to activate it, tragic accidents might happen and there are certainly some examples of such cases. So, when you select opener systems and install gate opener keypads and intercoms, make sure they comply with these regulations. It's a shame to get injured due to faulty decisions or ignorance.